Me & Mr. O'Kitten
...and I'm feelin' the love!
I'm back in Michigan and recovering from all the food and festivities--which of course requires extra napping and lots of coffee.
To my shock, the cats did no visible damage to the house, although someone did hurl rather mightily a few hours after our return, no doubt due to all the excitement of luggage requiring intense scrutiny, clothes and shoes smelling of strange places, and the necessity of bolting dinner in order to resume aforementioned activities, not to mention roll and rub and pat and wind about us with wild abandon. (Okay, so it wasn't exactly
wild
abandon, but Morgan and Isis were very happy to see us, and Emma deigned to lie belly up and allow us to stroke her undersides.)
I saw friends, including my darling Suze, who is shown here (at left, with Brantley, reading to us from the Gabor book at right); also my dearest Linda and her sister Cathy; they're the ones who treated me to NJ diner fare and lobster. As for the CREST trunk show at
Etsy Labs
visit--it was terrific. More on that to come.
But the real reason for our trip was the christening of my nearly 6-month-old niece, Mackenzie Rose, who I was meeting for the first time, and who I now madly adore. Not just because she is scrumptuously adorable, but also because she is so very, very good. And you know me,
not so much
for the babies, right? But I really like this one. A bunch.
The only time I heard her cry even the teensiest bit all week was in the church when the priest poured the water over her head, but in her defense, she had been sound asleep. Believe you me, if some strange man woke me up in front of a hundred or so people by pouring cold water over my head, I'm pretty sure you'd hear me a few pews away, too. And as soon as she caught glimpse of the cameras and all her adoring fans, she composed herself pretty darn quick. What a trooper--a grrl after my own heart.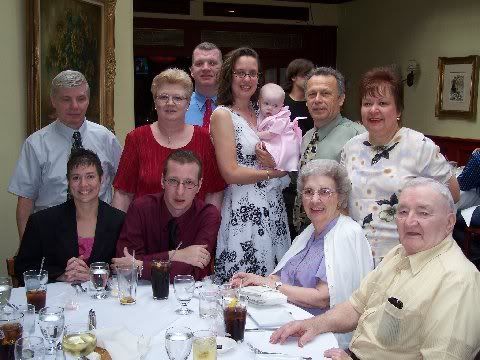 Mackenzie and her fans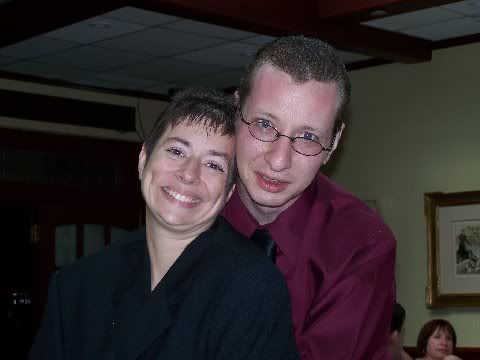 Me and Mr. O'Kitten