Lacey at about 8 months old; Graty at about 5 months
Tomorrow morning Graty will finally have the opportunity to reunite with his childhood sweetheart, Lacey, for a romantic rendezvous.
Yes, we have finally decided to try to breed our two llamas. Lacey has been a terrific mother to Pepper, and Graty is such a handsome guy with a winning personality that we're optimistic that this pairing could have a very positive outcome. Not to mention the whole love story angle. (Oh, and they both have beautiful fiber, too.)
They were born about 3 1/2 months apart and lived on the
same farm
until we adopted Graty (and Llannie) in the fall of 2004, when Graty was just over a year old. When Lacey arrived here with her aging mother Switzer last year, she was quite pregnant with her first cria (soon to be our Pepper) and not the least bit interested in Graty's amorous attentions, with which he attempted to impress her from across the fence.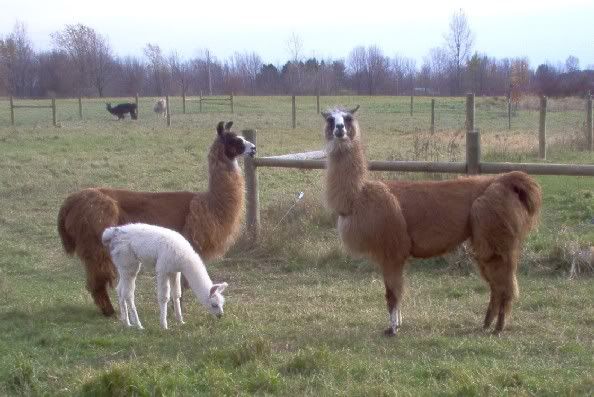 Switzer, Pepper, and Lacey
And amourous he was, mooning about, ogling the girls at every opportunity, standing with his fleece blowing most dashingly in the breeze, or simply hanging his head over the barn wall with a stupified expression looking for all the world like a goofy, love-struck teenager.
Graty, blowing in the wind (with an indifferent [read: neutered] Llannie grazing behind him)
Now that
Pepper
is nine months old, and since llamas have a gestation period of over eleven months, this seems the perfect time to breed for a summer cria.
So tomorrow morning, we will unite Lacey and Graty in the same pasture and see what happens. I'll keep you posted.