You can usually tell when I have PMS, because suddenly my posts dwindle (due to all the extra napping and increased crankiness). Well, despite the fact that I still have PMS (consider yourself forewarned, cranky person at keyboard), I proceed here with some random things that have been in my head.
Another Funny Shirt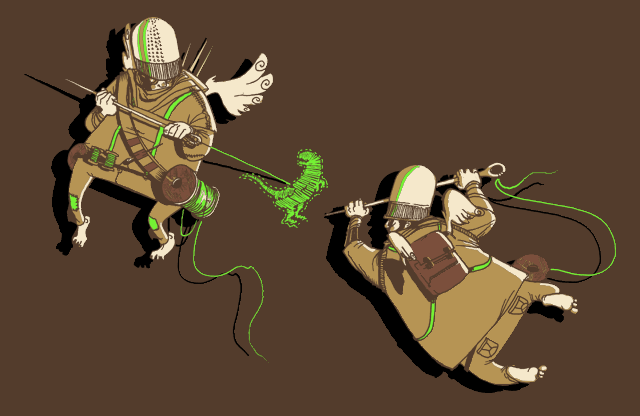 The Embroidaries, from Threadless. $15-17. Love.
Craft, craftzine.com
"
Craft
: transforming traditional crafts" magazine--best $15 I've spent on craft literature in eons. (It's from the people who created Make and
makezine.com
.) I want to make almost everything in this Japan style issue, and that
never
happens to me with craft magazines. Ever.
Even if you don't buy it, just page through it on the newsstand and I can almost guarantee you'll get a couple ideas by simply leafing through it. (For knitters, the knitted kimono is stunning, and there's a little interview with Debbie Stoller. Mostly I just like the photo of her in her skully sweater and big black boots sitting on a suitcase in Grand Central Station.) But there's so much fun stuff in it you really should check it out. I read it from cover to cover, and that never happens, either. I particularly like the urls liberally sprinkled throughout. Way cool.
The PC is Sick, or, Why I Have a Mac
I realize discussing this is akin to talking politics, but I have PMS so I'm throwing all caution to the wind. I will preface by saying we have a two computer household. I have an iMac; Mr. O'Kitten has a PC (an HP, to be exact).
Now, I use the PC frequently. For one thing, it's a bit faster than the Mac. It's also in The Smoking Room (as opposed to the smoke-free crafting/craft-storage room--i.e. MY room--where the iMac is)--so if I want to smoke while I'm on the computer (yes, yes, smoking is very very bad) I go into the one room in the house that we smoke in.
Both computers are now about four years old. (Is this old in computer years?) Suddenly the PC has decided that it no longer wants to power up. I don't mean "start up" -- I mean, it won't turn on at ALL. So it has to go to the computer doctor.
Now this brings me to several points I'd like to make about the Mac. Granted, the iMac is a little slower than the PC we have. But I
love
my iMac -- plus, it's cute and looks like something from The Jetsons. Not to mention it's not spilling with cables and wires and cords and a hulking CPU that I'm trying to hide under my desk. (Yeah, I know it's always fun trying to match that little piece with the 21 pins to the bit in the back with 21 holes. We got none of that here.)
At work I've always used a PC, but I've always owned a Mac -- for over 20 years now. I find that when I need to install, troubleshoot, or fix something on the Mac, I can pretty much always figure it out myself, but not so with the PC. Plus, the Mac has far better immunity to viruses and stuff. (Maybe that's because Mac owners tend to be artsy types--not banks or law firms or fortune 500 companies--with less stuff worth hacking into, but hey, I'm not complaining.)
Plus, every PC I've ever used has always needed to go to the computer doctor at some time or another, and you need a new one every few years. They freeze, crash, need repairs...but my Macs (knock wood) just run and run until...well, basically until they're so old (I mean OLD, like 8-10 years and it's no longer worth upgrading anymore) that it makes more sense to get a new one. This iMac is only the third Mac I've had since 1990. Seriously!
My spouse, who's a PC guy, isn't crazy about it, but then he's very used to the PC interface and some things on the Mac are a little different (but not much). I'm an intuitive/visual person and I think the Mac is great if you work and think like that--I often get stuck trying to solve things or learn new software on the PC but can generally pick new stuff up easily on the Mac (the way the interface works) with no problem. But that's just me.
It is true that there's a bit less software for the Mac than the PC, but not nearly as much anymore now that so much is cross-platform. There's also a lot of freeware on the net that solves some of these problems if there's something you want to do but can't find a Mac application for it.
I'm all for the marriage of form and function. I want something to work really well, but I want it to look good on my desk, too--especially if I'm going to be looking at it all the time. Don't even get me started on the iPod and
pantpant
the iPhone...