Perhaps a Hybrid
Eddie Jabbour's Kick Design map proposal for the NYC subway
I love graphics and I love information, so I suppose it's no surprise that I should love maps and charts. Remember my glee at seeing all those old
subway ads and maps
at the NYC Transit Museum? Well, I just discovered that
Eddie Jabbour from Kick Design, New York, has created
a proposal
for
a new NYC subway map
.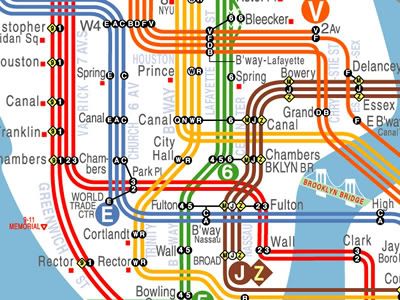 Detail of Jabbour's Kick Design map
I wonder if New Yorkers would go for it? They rejected Massimo Vignelli's spare, totally diagrammatic 1972 version and we've been using variations of a loosely topographic transit map since its introduction in 1979.
Interestingly, The Kick Map "...is designed with a combination of both diagrammatic and topographic features, thus enhancing the strengths and eliminating most of the weaknesses of both types. One premise of the Kick 'hybrid' map is that while most of the time a straight line is the easiest line to understand, there are important exceptions. ... [e.g.] The Kick Map employs 'route bends' in a subway line's route to signal to the user important above-ground road changes."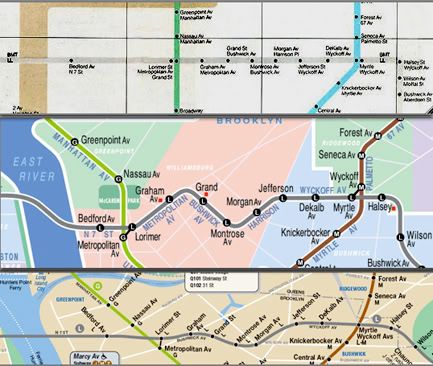 L-train line comparison (my own stop is Myrtle Av-Wycoff Av, at right)
Top: Vignelli's map; Center: The Kick Map; Bottom: current NYC subway map
I Got a Gift Idea
Continuing with the maps and charts theme, I found
a cool site
stocked with the most excellent charts, all beautifully designed, printed on archival paper, and mostly priced at $29 US. I'm so tempted to just polish off the rest of my holiday shopping right here, because I think I could find something for everyone...
How about the colorful
History of Life on Earth
, for example? "This poster illustrates the evolution of Life on Earth over the past 600 million years. A timeline with important ecological events and over 120 illustrations portrays the intricate changes in history that yield the rich biodiversity of today. History of Life on Earth received a semi-finalist honor at the most recent National Science Foundation International Science and Visualization Challenge." Can't beat that for $25.
Other categories include politics (
Death and Taxes
shows where Federal Income Taxes go), history (
Race to the Moon
), historical charts (like
Chronology Delineated
from 1813), sports (
History of the Major Leagues
), and pop culture (
The Genealogy of Pop/Rock Music
). Really good stuff.
The Taking of Pelham One Two Three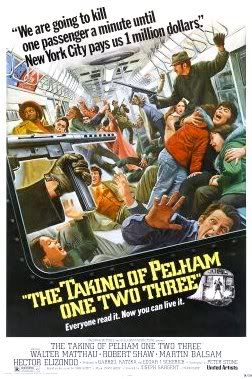 "We are going to kill one passenger a minute until New York City pays us 1 million dollars."
In further NYC subway news, I happened to be up late last night and caught
this 1974 thriller
on
TCM
. First of all, I love pretty much anything set in NYC, whether it's
CSI: NY
,
NYPD Blue
, or bad 1970s cops'n'robbers movies. (Can I welcome the US debut of
Life on Mars
as a hybrid of all of the above?)
But
The Taking of Pelham One Two Three
is none of the above--it was a really good, highly suspenseful film with a great cast: Walter Matthau as a cranky Transit Authority Cop, a young Jerry Stiller (looking suspiciously like son Ben here, I might add) as his fellow Lieutenant, a super-youthful Hector Elizando as one of the bad guys, and Doris Roberts in a brief appearance as the mayor's wife.
Tell me what's not to love about Walter Matthau.
(I always enjoy a good curmudgeon.)
Start with a satisfyingly dark plot, add a bit of blood and brutality, mix with lots of New York City grumpiness and cynicism for good measure and add a dose of black humor and you've got a totally enjoyable evening in the NYC subway system. I suppose with that recipe it should've been no surprise that
Dark Knight
creator and
Sin City
visionary
Frank Miller
selected
The Taking of Pelham One Two Three
among last night's movies, as I discovered when he joined
Robert Osborne
on the
TCM
easy chairs. Maybe he's promoting the Christmas release of
The Spirit
?