I've been going down the Jersey Shore for 22 years now, and one of the things that never fails to entertain me is the seemingly endless supply of shore fashion. For example, no one seems to tire of "Italian Stallion" wife-beater tank-tops or airbrush t-shirts. In recent years, there's been a plethora of short-shorts with phrases emblazoned across the rear. Here's a sampling of this year's favorites.
Notably, "Save the Drama for Your Mama."
"I <3 Guidos" is a classic, second only perhaps to "I <3 my Italian Stallion."
If you're "Mike's Girl," you're in luck with these shorts.
Airbrush designs--perennial favorites.
Even yours truly has an airbrush design all her own.
In a different vein, there's the fisherman-themed souvenirs (despite the fact that there are no fishermen here), including a sign that promises, "The flogging will not stop until morale improves."
Of course there's also the more traditional beach fare that you will need for your sand-castle building and your beach-buddy burying.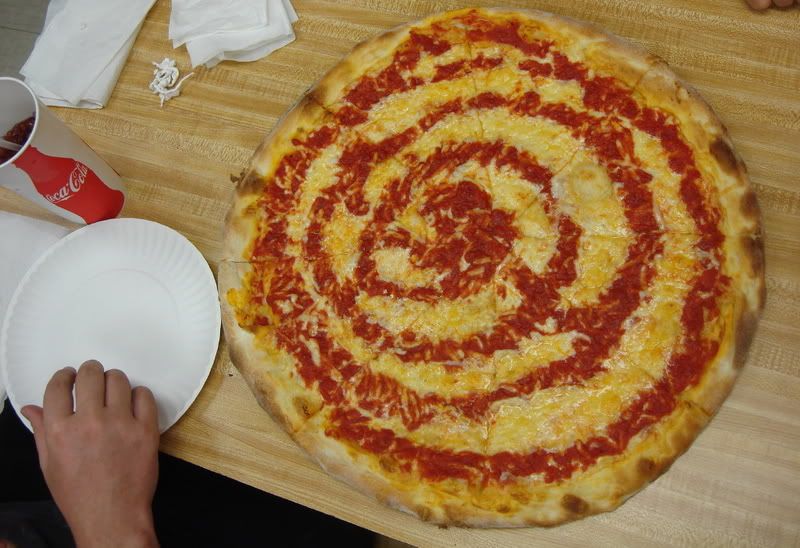 And let us not forget beach food. For us, the one mainstay that cannot be missed is Maruca's pizza, a Seaside Heights landmark since 1950.
You all know how much I missed eating real pizza while we were in Michigan. Maruca's may not technically be in New York City, but their pies are virtually matchless, and Mr. O'Kitten's family has been enjoying them pretty much since they opened their Seaside pizzeria.
A blissful Mr. O'Kitten.
Can you see how thin, crispy and perfect the crust is? Mmmm...
The other place we must stop at is Kohr's. Mostly I like it for the signs, but they have really good soft frozen custard and ice cream, too.
Mr. O'Kitten especially likes their orangeade.
Mrs. Lillian says, "O'Kitten has more Seaside to come, so stay tuned!"