I finally saw the trusty doctor yesterday and I can now report that I have neither consumption nor pneumonia. It's merely a sinus infection that I've been carefully nursing since the cold I got at Christmastime, and it seems I require a course of antibiotics--which I am vehemently opposed to since every time I take them I seem to get sick with something else as soon as the original thing they're supposed to treat clears up.
I don't even think I've taken antibiotics since before I got sober. In any event, the good doctor gave me some really old type of antibiotic, not one of those supermax turbo-powered ones, and suggested I eat some yogurt to help keep my flora and fauna in balance.
As evidence that my system does not like antibiotics, I soiled myself twice within several hours of taking the first pill (and this while being seated only about 15 feet from the bathroom). Then I read that they're not supposed to be taken with food (not that I've had much appetite anyway)-- incidentally, the small print on the bottle did not inform me of this. I've since avoided combining food and antibiotic, and my digestive system seems to have returned to something resembling normal. Fingers crossed.
Total Eclipse of the Moon
Last night we watched the total eclipse of the full moon. Well, I should say we stood outside on the back deck as long as we could stand the 2 degree (-17 C) temperature.
It looked pretty much like this (a photo taken my Marc Nozell that I snagged from a google search). Such an eerie rusty copper color.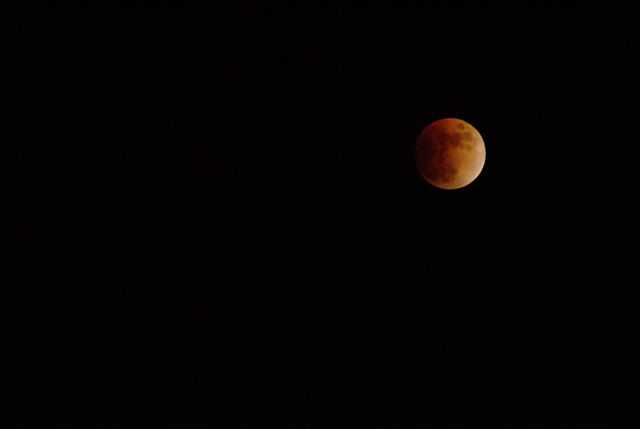 NASA tells you
when eclipses are happening
--and where they'll be visible. Kind of nifty. I mean, if you like knowing that sort of thing.
The Boys Go for a Stroll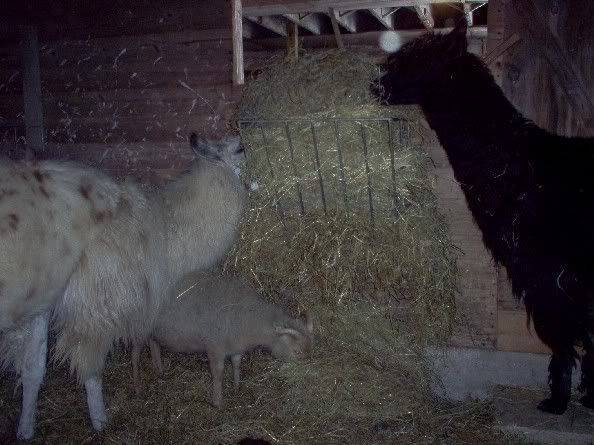 Here are Graty (the llama at left), one of the sheep in the middle, and Llannie (llama at right, the black one). This is where they belong, in their stall, eating hay, or kushed down for a snooze, or possibly wandering out into the snowy pasture for a brief inspection of the premises.
When I got back from my doctor's appointment yesterday afternoon, I headed out to the barn to make sure everyone had water and hay. There were an unusual number of pawprints in the deep snow outside the opening into the barn, but raccoons and possums do go in to forage. However, it almost looked as if deer had been there, which would be pretty strange that close to the barn.
Once inside, I noticed a few things out of place--a rake on the floor, a sawhorse on its side, which I uprighted...and then the most out of place thing of all: Llannie standing in the
open door
of his stall.
The hay bales usually stacked there were in complete disarray, and as soon as I came up to Llannie he stopped eating from the hay and ambled back into his quarters. Graty and the sheep (who I presume never left) looked at me as if nothing were amiss.
After feeding everybody and securing the door
very tightly
I went for a walk, and followed a lot of these: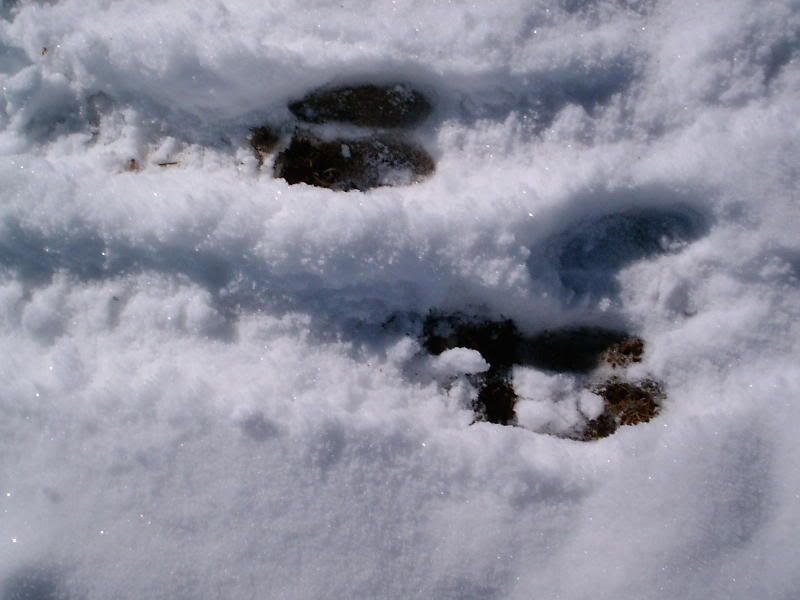 [I should mention I didn't take this picture. I was too annoyed and it's been far too cold to take my camera out. But she has some good llamas in the snow pictures (besides this one).] See how they just have two toes?
But back to my llama tracking. The prints wandered around the east side of the barn and along the pasture and well beyond it. Then all the way around the pasture and back alongside the barn on the west side. Past the brooder shed, then to our house and all the way up to our deck. Across the yard to my parents' house, to their porch and behind their garage. Around the chicken house and eventually back to the barn.
At least they were smart enough to go home after all their adventures, because by the time I arrived (mid-afternoon) it was if nothing had happened, everyone was back in the barn all safe and sound and giving me that "Who, me?" look that cats and llamas have perfected.
Llannie, innocent.
Graty, obviously innocent.
Tyr, completely innocent, likely never left the barn and probably never even noticed anything untoward was going on. (I mean, he's a sheep.)
Just another day at the homestead.
But hey, at least I haven't got consumption.