I made a couple of these
Heart Lace Cloths
and liked the Heart Motif, but I couldn't find anything similar for Easter. So I came up with this: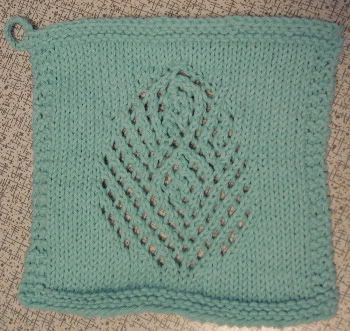 I think it looks like what it's supposed to be, right? I rearranged the stitches from the lace heart pattern on a new chart. It's not easy to make something ovoid out of rectangles, but there you are.
I would love it if one or two of you intrepid knitters would test out the pattern for me. It's super-quick and takes less than half a ball of Sugar'n Cream. Just post a comment here or email me at sohopixieATyahooDOTcom and I'll email you the pattern. Once I know it works for someone other than me I'll post it here on the blog.
Any takers?
Easter is April 12. The bunnies are coming!