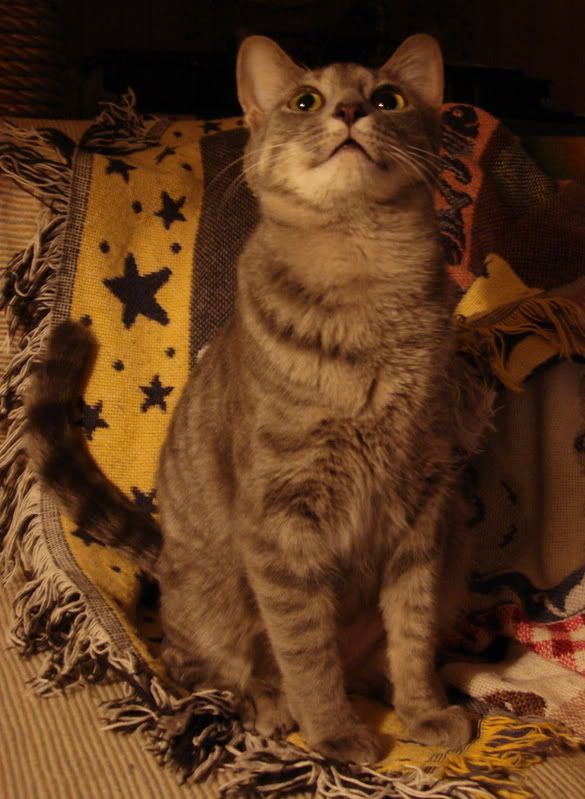 Cats on Tuesday: The Cat Goes Meow, Purr, Hiss, Chirp,
Ermrrrp
...
Our niece Mackenzie, who recently turned two, knows what several dozen animals say. The Cow says Moo, the Dog says Woof (she has a dog at home), the Duck goes Quack, etc. She can even pronounce Squirrel, Alligator, and Hippopotamus, so it's no surprise that Mackenzie knows that the Cat Says Meow.
After visiting our house the other day, she had seen three cats, none of whom said Meow. Emma, who really likes Mackenzie, purred a lot. Isis, who does not like having a small visitor in her home (no matter how gently said visitor may pet you) hissed at Mackenzie once. Morgan hid, although remained curious and kept peeking in at us from the next room.
So now Mackenzie knows that Emma says Purr-Purr, Isis goes Hiss, and Morgan hides in the closet. This lesson provides us with today's Cats on Tuesday.
Most Likely to Inform You That It Is Cat Breakfastime: Emma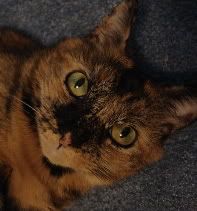 Incidentally, Cat Breakfastime is 7:30 am.
Most Likely to Remind You That It Is Cat Dinnertime: Emma
Cat Dinnertime is 6 pm.
Most Likely to Insist a Closed Door Be Opened for Her: Emma
This was nearly a tie between Emma and Isis, but Emma gets the win for sheer persistence. Isis will eventually give up and go take a nap, whereas Emma could sit at the closed door making her argument into perpetuity. Or rather, until the door is opened for her.

Most Likely to Announce Her Entrance Into the Room: Morgan
This announcement is made in her native tongue of Morganese, and sounds rather like "Ermrrrp." No one has yet successfully translated this language, but we suspect "Ermrrrp" is the Morganese equivalent of: "I am, and I have now arrived successfully at my destination." This is only speculation, however, and should not be taken to be an authoritative translation.
Most Likely to Tell You That She is Bringing You a Mouse (or Other Toy): Isis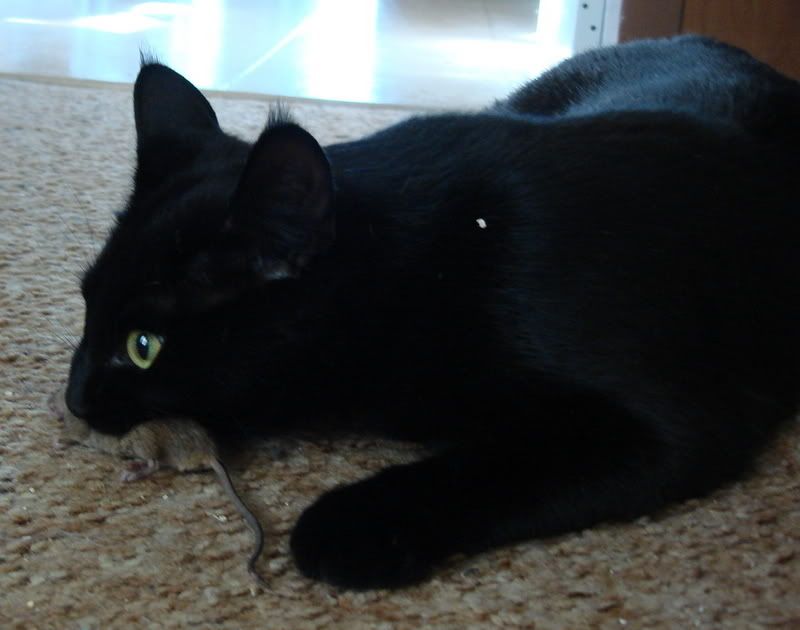 At least now that we've moved back to the city, it's only

toy

mice. Lately, she's been bringing Mr. O'Kitten her furry toy mouse every evening. She tells him a little story as she comes into the living room, and then sets it down at his feet. Isn't that sweet?

Most Likely to Scry Into the Waterbowl: Emma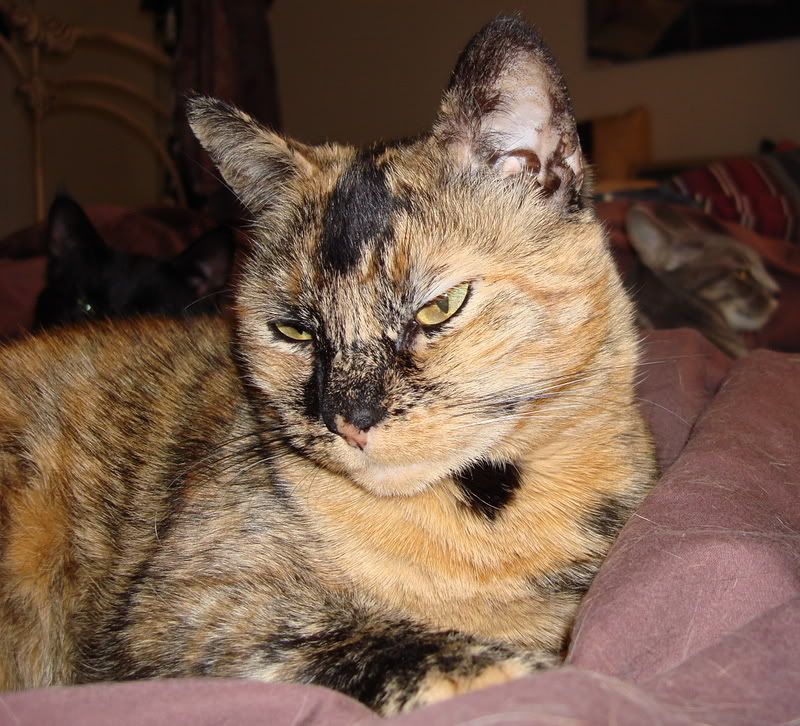 At least we

assume

that Emma is somehow contacting the future when she yowls deeply into her waterbowl--generally after one has gone to bed and is half-asleep--guaranteeing maximum creepiness. At times she practically shakes the floorboards with the depths of her sighs. What she sees of past, present, or future, I can't tell you. I just hope the neighbors downstairs can't hear her portents.
Most Likely to Lament My Departure: Emma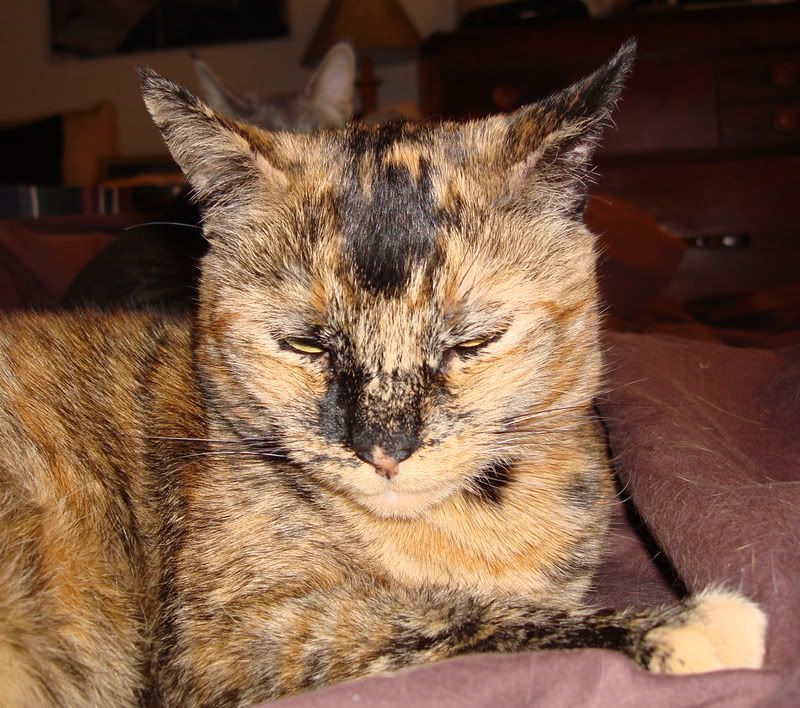 Mr. O'Kitten claims that both Isis and Emma sit in the living room and discuss my departures (for the store, to work, to take out the trash) at some length. Again, Emma gets bonus points for sheer persistence; Isis just doesn't have the attention span that Emma does. Then again, Mr. O'Kitten might be making the whole thing up to make me feel important.
Most Likely to Tell You a Long and Incomprehensible Story: Morgan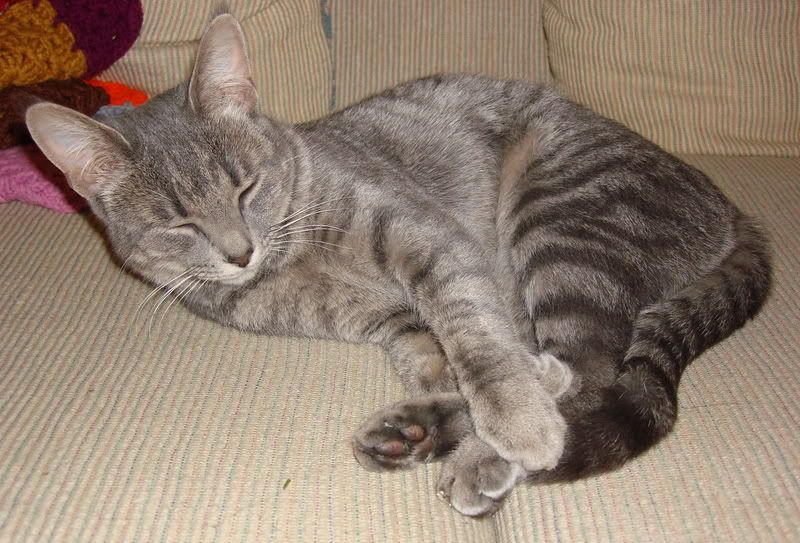 These epic tales, like the arrival greetings described above, are likewise related to us entirely in Morganese. Although these lengthy monologues provide opportunites for more extensive examination of the Morganese dialect, translation remains an ongoing challenge.
Most Likely to Hiss at Her Sisters While They're Having a Spat, or Likewise Express Her Disapproval of Small Human Visitors: Isis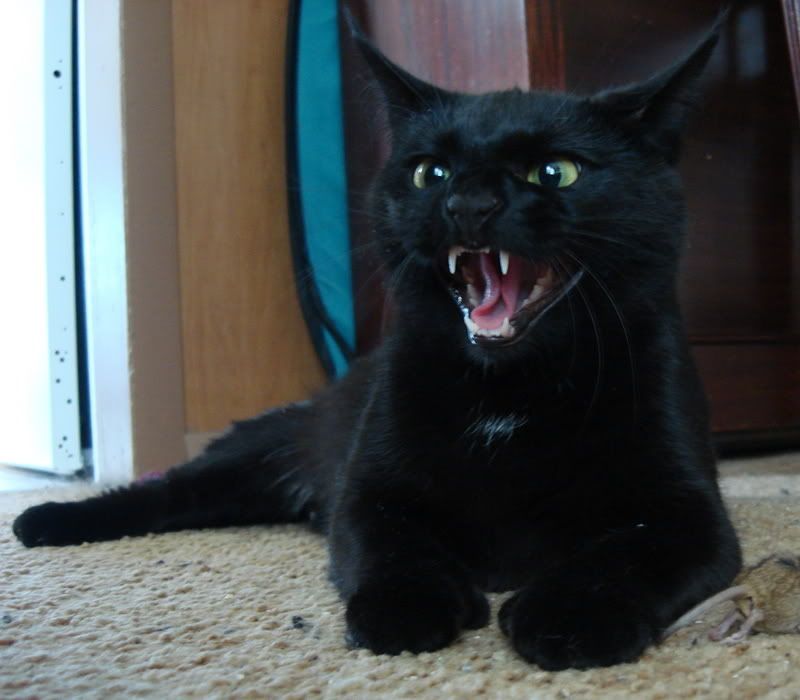 Most Likely to Chitter at Birds from the Windowsill: Isis
Isis used to do this a lot, but I just caught Morgan doing it the other morning when she spotted a bird outside the bedroom window. If you're not sure what I mean by chittering, the short video below captures it

perfectly

.

I've heard maybe a third of the cats with whom I've cohabited make this funny, eerie noise--usually when they've seen birds that they can't actually chase. I wonder how many cats do this? Have you ever heard your cat make this noise, and, if so, what were the circumstances?