There are few things we Americans love more than a parade, except perhaps an excuse to dress up in a crazy costume. (Think Halloween or Mardi Gras.) If you combine a parade, a reason to dress up in a silly costume, and the opportunity to drink alcohol to excess, many of us will believe we have died and gone to some crazy American version of heaven.
That, my friends, is the
New York St. Patrick's Day Parade
. This parade began in 1762 and, in keeping with its 247-year tradition, doesn't allow "floats, automobiles and other commercial aspects" -- meaning there are 150,000 - 250,000 marchers on foot, on horseback, in bands (with an emphasis on bagpipes and other traditional instruments), as well as large contingents of firemen, policemen, military, county associations, emigrant societies, social and cultural clubs, civil war reenactment groups, and much more.
We neither wore extravagant costumes nor imbibed tremendous amounts of alcohol, but we did have fun. Here's Mr. O'Kitten with our niece, Mackenzie. (Yes, her shirt is in keeping with the spirit of the day.)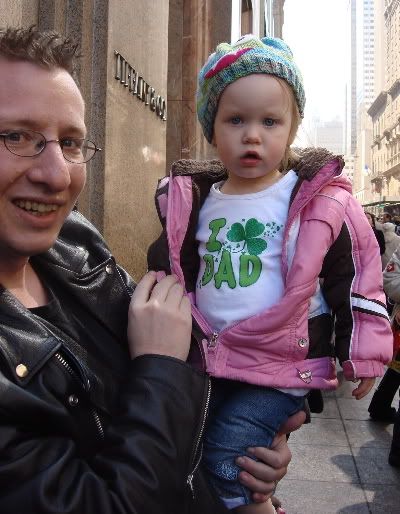 Now on to the parade.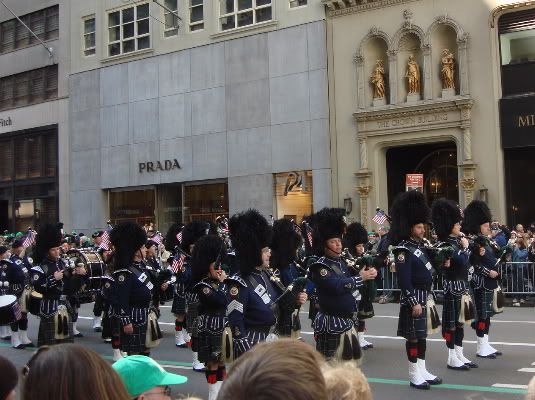 There were many, many bagpipes...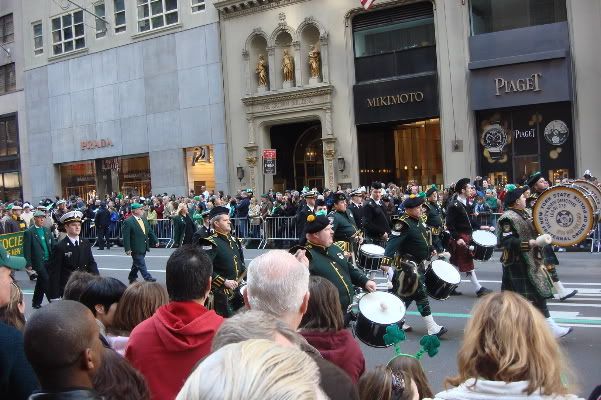 ...drums...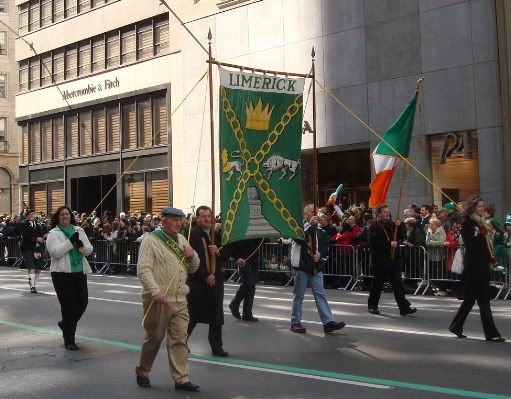 ...colorful flags...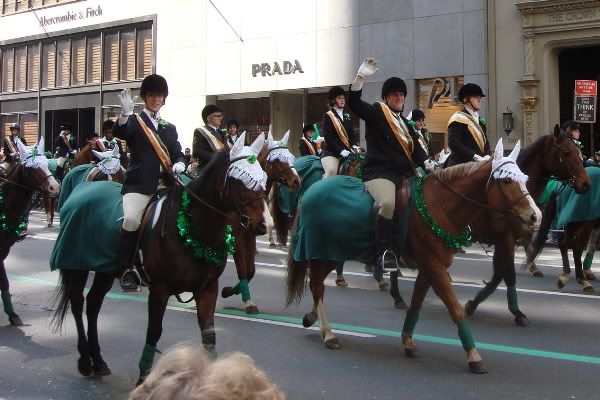 ...very well-dressed horses (of which Mackenzie was quite fond)...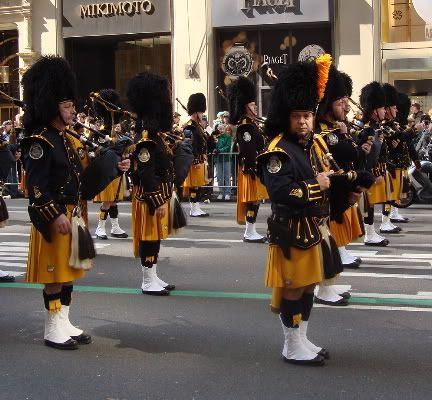 ...and more kilts than I've seen (or dared to imagine) in one place, ever.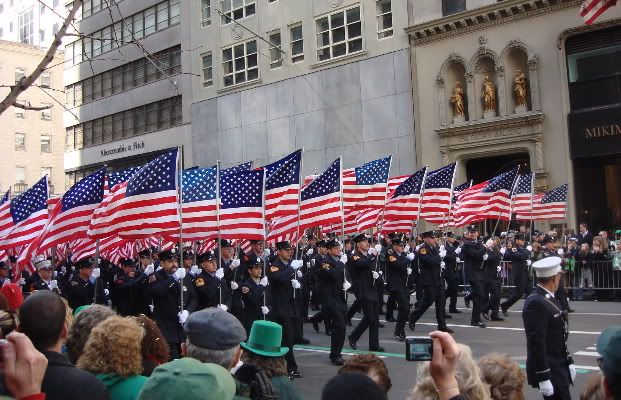 Here's the NYFD (New York City Fire Deparment) -- lots and lots of firemen, getting lots and lots of well-deserved applause. (Like Firefighters? Maybe you need one of these.)
Now for some of the costumes we saw along Fifth Avenue. Remember, these people aren't
in
the parade. They're dressed up like this to
watch
it.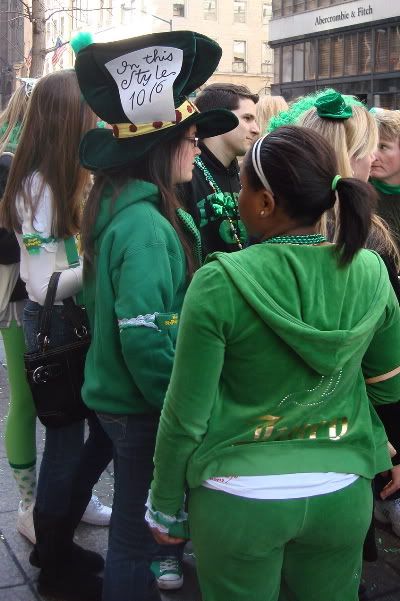 There were big, kooky costumes...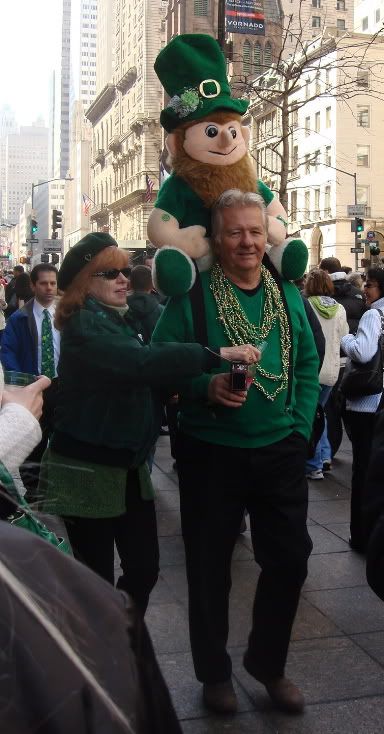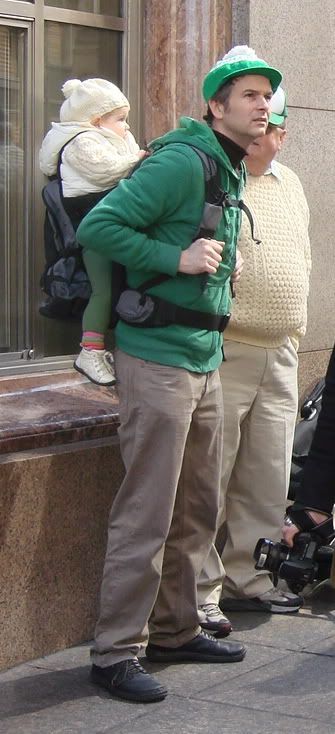 ...as well as more understated outfits, like the aran sweater (at right) or green sweatshirt/tam combination. The baby's sweater is really nice.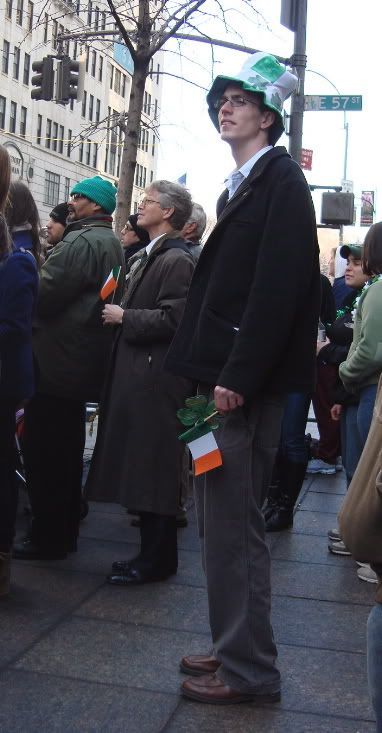 This guy was very close to us in the crowd. I'm not sure ennui counts as a costume, but he definitely tried with the hat.

This fellow was in front of us for awhile. There's nothing like wearing one country on one cheek and one country on the other.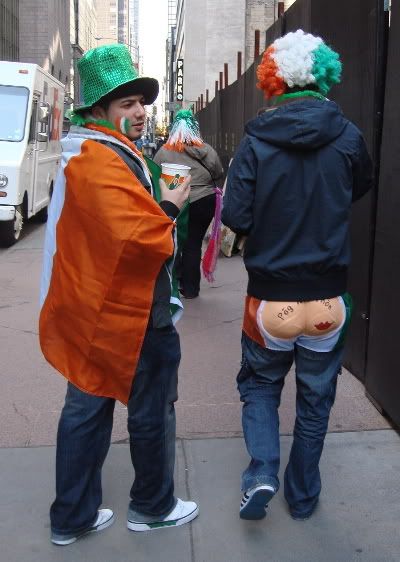 Pog mo thoin
means "Kiss my ---." Alternately,
pogue mahone
, from which (I'm told by Mr. O'Kitten) the amazing band
The Pogues
got their name. It's good to learn something new every day, isn't it?
The end.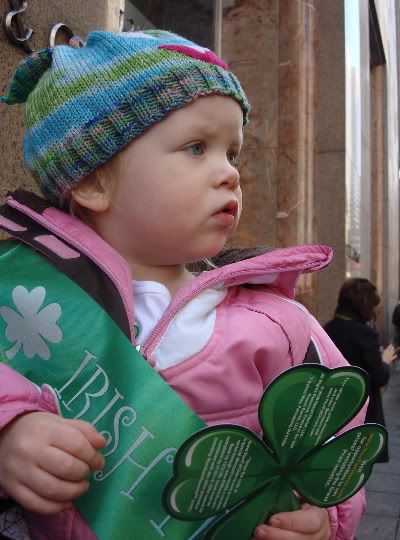 Uncle O'Kitten: What's the matter, Mackenzie?
Mackenzie: I'm lookin' for the horsies.