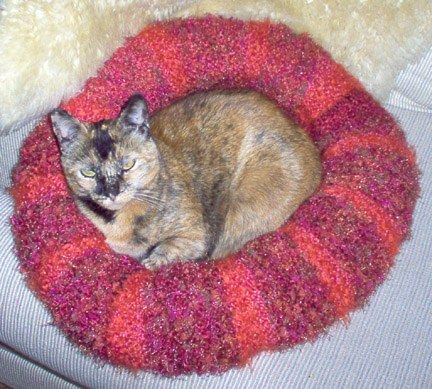 Here Emma models for you the cat bed I just finished. (In fact, she was sleeping in it before I even got it sewn together.)
Loosely based on the Snowball Bed (yet another SnB book find), the sides wound up so wide I stuffed them with an old pair of sweat pants, a pair of denim shorts, and some socks from the rag bag. Can't say Emma seems to care.
The other fun thing about this project was that I used yarn I found in the sale bin at Michael's--yarn I probably wouldn't have thought to buy for anything else. But hey, at $2 a skein, why not? Plus, a princess like Emma demanded a little sparkle and glam. So I used:
Lion Brand Homespun in Coral Gables (part of 1 skein)
Red Heart Light & Lofty in Glow Multi (used 1 skein, which I bought when I started to ran out of the previous; btw, this is not a bad substitute for LB Homespun)
Bernat Bling Bling in Moulin Rouge (2 x 90-yd skeins)
Moda Dea Eden in Flame (part of one 83-yd skein)
Lion Brand Wool-Ease in Spice (1 skein)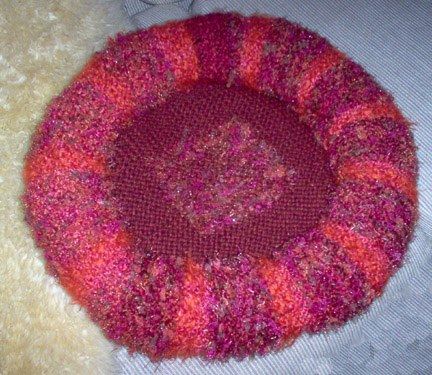 If I'd actually paid attention to the pattern, I would've bought more than one skein of the chunky Wool-Ease, and then the roll around the bed would've been sturdier. (It turned out I only had enough of it to knit the base of the bed.) But, as I said, the cats don't seem to care.
Now I'm thinking those crazy stripes wouldn't have made a bad scarf at all!
In fact, old Grey Cat is telling me right now that he needs to be in my lap as I type. Not sure if this is a compliment (he wants to be with me) or a complaint (Emma is hogging the new bed, and it's not big enough for two). Oh well, he'll have to make do for now, because she looks SO comfortable...