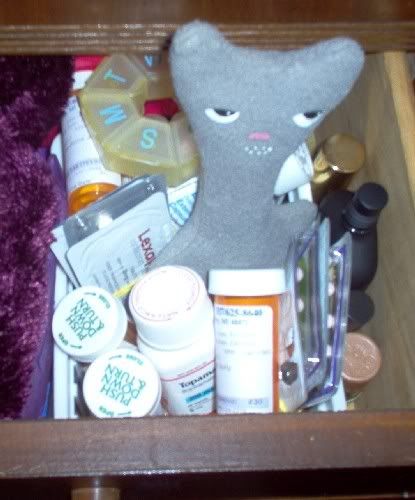 I avoid Wal-Mart for lots of reasons, most of them obvious. But now I have a new one. They advertise inexpensive prescriptions--but this is a LIE! At least it proved to be completely false advertising for us.
Since we're both bipolar, Mr. O'Kitten and I spend a lot of money on meds. (I could go into a whole rant about not being eligible for Low Income Medicare Part D and what a rip-off
that
scheme is, but I won't--for now.) So last month he decided he wanted to fill a few scripts at Wal-Mart instead of our local IGA (Independent Grocery Store).
I grimaced at the thought. I hate Wal-Mart with a passion.
"But it'll be far cheaper than IGA. Everyone says so," he insisted.
It wasn't far cheaper. In fact, we wound up losing about $50 on the deal. Here's the breakdown if you don't believe me.
Prescription 1
(a name-brand drug, no generic available): IGA price $24.81, Wal-Mart $27.78. We're only out $2.97, but still.

Prescription 2
(a generic): IGA $16.62, Wal-Mart $23.46. We're out $6.84 on this one.
Prescription 3
: IGA $16.06, Wal-Mart $55.84. A difference of $39.78! Holy cow. Same script, same strength, same quantity--everything.
So we got--to my mind--totally ripped off for $49.59 by Wal-Mart and their false pretense of "cheaper" prescriptions. (Good thing we had some Christmas money, because that certainly wasn't in our budget.)
Don't go in there--ever.
I'll stick with my IGA--which, by the way, is also competitive with the bigger supermarkets on most things, not to mention ten miles closer. Everyone thinks these huge superstores are so much cheaper--sure, they'll have a "super sale" on milk or crappy hamburger meat to get you in the door, but honestly, compare before you judge. You might just find that your smaller local store has better prices than you think (or than the big chain stores want you to believe).
So they won't have five thousand different types of cereal or eighty-nine brands of Tide. I get vertigo in those big stores anyway. They're soul-suckers.
Think small and buy local.
Steps shyly off of soapbox...
Friday Night Video
I graduated from high school in 1986, so Bowling for Soup's "1985" has a special place in my heart. You've probably heard the song, but if you haven't seen the video, the send-ups of '80s videos are simply terrific.