Look what my mother-in-law gave me! She collected ALL of this lovely yarn from the ladies in her "Homemakers Club." There are about a dozen of them, many (or most) in their 80s and 90s (with the exception of my m-i-l), who meet weekly to work on craft projects, and when they heard I was a girl of little yarn stash, they swooped in to the rescue! Wowee! On the airport scales this bag weighed in at a hefty 37 pounds'o'yarn!
And I am so delighted and grateful, because every skein and every ball was lovingly wound (no tangles here!), if there was a label it was attached (or in a plastic baggie), and there is some truly lovely stuff in this massive care package. More on this to come, believe me!
A real highlight was a visit to
The Point Knitting Cafe
, where I met some really cool knitters and fabulous folks (Hi, Ravi!)--if you live anywhere NEAR New York City and you've never been here, you absolutely MUST visit
The Point
. Coffee, yarn, and knitting fellowship in the coolest cafe ever--what more could one ask for? A great selection of yarns, too (and you can order online...hint-hint!)
I'd write more, but I'm about to hop in the van to visit
Queso Cabeza
, the birthplace of our llamas and home of our friends Rick and Laura, llama- (and now Icelandic sheep-) raisers extraordinare. My parents and grandma are coming along to visit the animals and view much fleece-crafting fun. So there will soon be more pics of New York (yes, there
was
a heat wave), farm animals, and additional knitting and travel content.
Saying goodbye to a slightly hazy NYC skyline from the plane, and hello to farmland...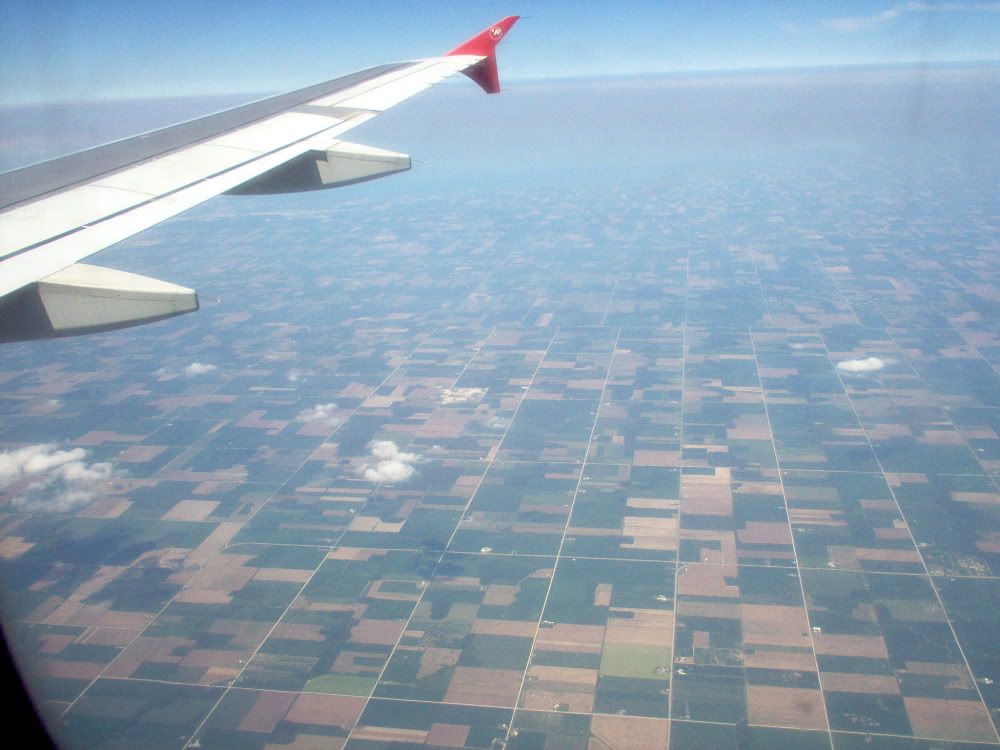 I did finish 50 granny squares for my baby blanket, and started a new knitting project. The cats did not wreck the house (Morgan gained a half-pound!), the chickens grew, and it is a lovely 70 degrees here on a very green and farmy day. More to come soon, promise!
I haven't even had a chance to check my email or hopped onto anyone else's blog yet, but tonight is likely to be an owlishly late night, so hope to see y'all soon -- I've missed you!
~O'Kitten