Our visit to our friends at Queso Cabeza.
They've got 10 llamas, 19 Icelandic sheep,
3 Icelandic chickens, 2 dogs, and at least 2 cats.
Above, some of their Icelandic ewes take the shade.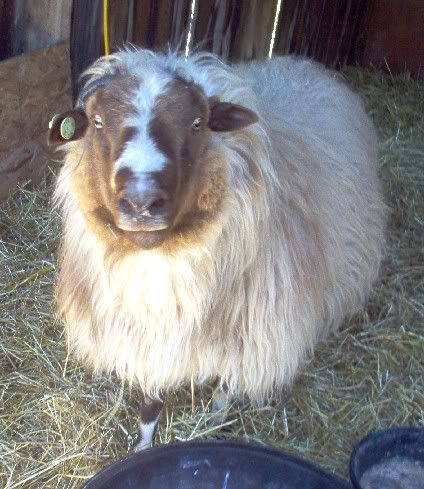 Yes, Queso Cabeza does mean "cheese head."
They're from Wisconsin. It's a Wisconsin thing.
This handsome guy is an Icelandic Ram.
He'll be shown this weekend (Aug. 19-20) at the Michigan Fiber Festival.
You can find me there at the Queso Cabeza booth on Saturday.
Trying to feed Tiny the Lamb a carrot.
He doesn't like me as much as his mama.
This is Teapot, the mother of our Graty.
His given name is Chilean Gratin.
You may notice the "cheese" theme.
Young Emmett (a.k.a. Emmenthaler) approaches
his second birthday this weekend.
Back at home, I found our
first ripe pickling cucumbers.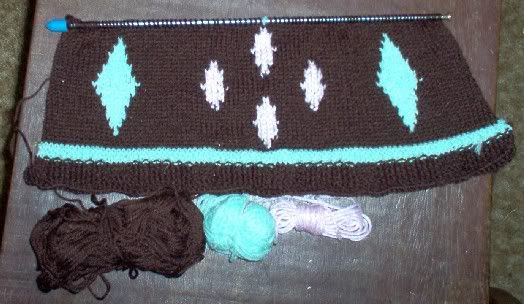 Trying to put the big bag-o-yarn to good use, I came up with a little diamond pattern that I hoped looked like those retro 50s astro diamonds. Okay, not quite, but Mr. O'K said, "The colors are awful enough that they remind me of my grandmother's kitchen," which was exactly the look I was going for with the dark chocolate brown, pale mint green, and pepto-pink. So I'm happy. Don't ask me what it is I'm making yet--I don't know.
In honor of Dee's lovely Daily Stitch blog [knitters, fear not, there is also much knitterly content to be found there]. Dee also knew where M Street was in Seaside Park, one of my vacation destinations, so here, as an extra-special bonus presentation, are pictures of two of my cross-stitch projects.
I made the MOO pillow special just for our move to Michigan. (Hehheh, I said moove!)
This piece--incidentally very tiny and which took forever--has been tacked on the door of my room for, oh, like two years (hence the sagging). I don't know what to do with it. I don't want to frame it. Make a pillow maybe?
Tomorrow, pictures of my adventure at The Point, and/or fleece and fiber at Queso Cabeza, and maybe even pictures of the rapidly growing kitten tribe--those big house monsters...what on earth do they eat that makes them expand in size so quickly?