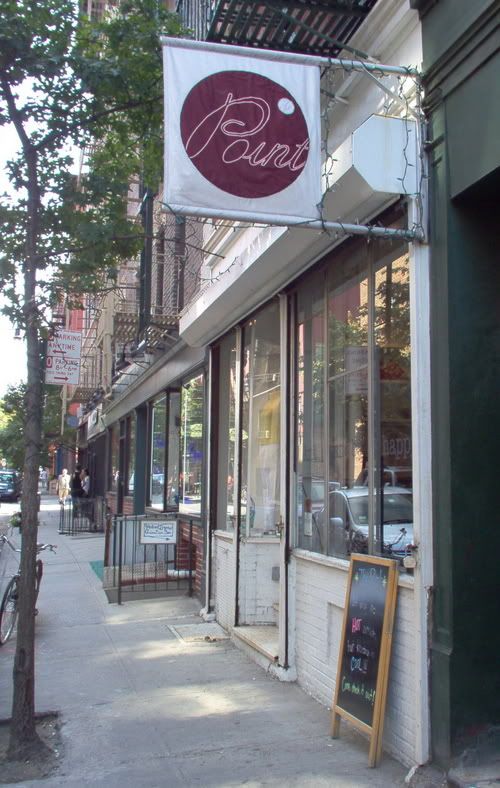 As I mentioned previously, my visit to
The Point
was one of the highlights of my visit to New York. Coffee, yarn, and knitting--what
could
be better, I ask you?
The place is beautiful, with wire baskets brimming with yarns of all kinds on the walls, and the entire back wall is simply
dripping
with skeins of handspun, silk, alpaca, and more gorgeous stuff that I can think to name. (Did I mention there was coffee?) And they were having a huge 40% off sale while I was there!
The set-up is great--small tables for little knit-ins and sit-ins, and one really long worktable (you can see it at right, above) for workshops and lessons, or bigger groups just hanging out. And, space being what it is in The Village, this is a Great Thing!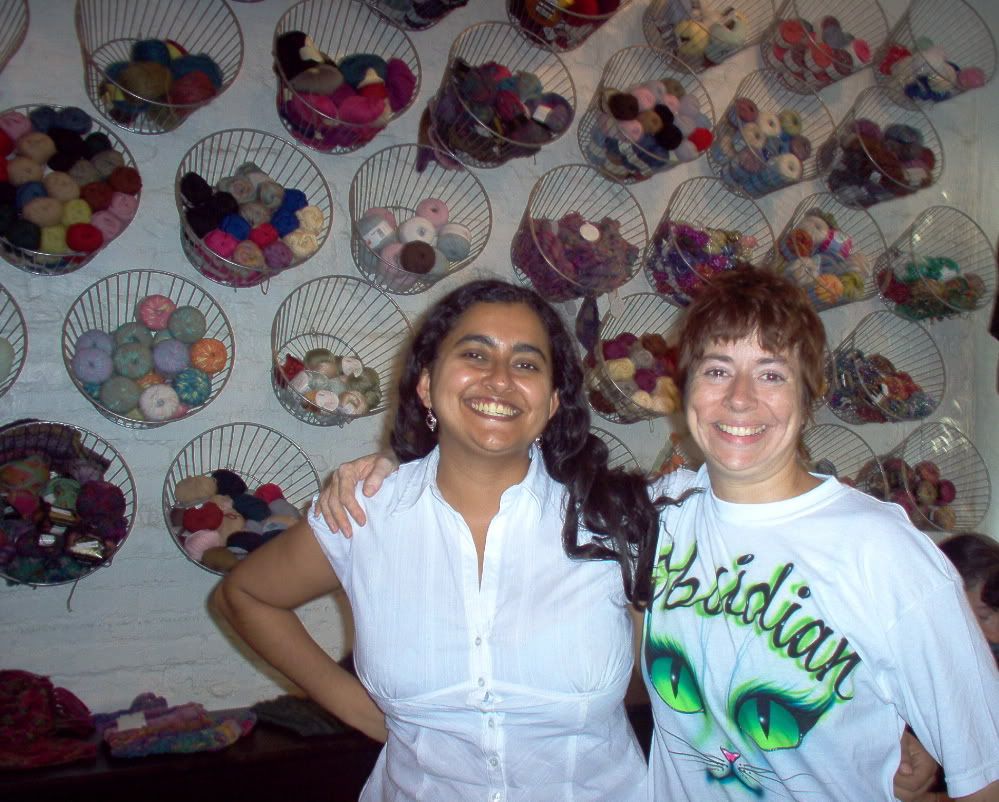 This is the knitting pal I met and hung out with while I was there. Ravi was an expert on all things yarn and helped me pick out yarn for
my Knucks
(no, I haven't even started casting on yet, I'm still just admiring my yarn...) and this
Razor Cami
I want to try. I just started a swatch for this today, and the chocolate Millefili Fine is
so
pretty (and so tiny!).
So here's the yarn I got. It was all on sale, really it was! Two skeins of Millefili (at right) and two skeins of
Lorna's Hand-Dyed
Shepherd's Sport for Knucks...one in Blackberry (far left) and one in Bucks Bar.
And so I spent a couple hours there chatting with Ravi and drinking iced coffee and it was a lovely, lovely Sunday afternoon in the city. I can't think of many better ways to spend a day.
I do have 2 knitterly questions--I need to get some size 5 circulars for the camisole. The pattern calls for 24" circs, but that's for an XS 30-32" bust size and I need to make it for a 34-36"--I hate stretching around circulars so I'm thinking at least 29" if not 32". Any recommendations? Also, I'm thinking bamboo might not be ideal for the Millefili, as the cotton is proving to be a little splitty (it kinda reminds me of embroidery floss, actually, although it's not
that
splitty). [And no, I don't think I can afford Addis!] Any thoughts?