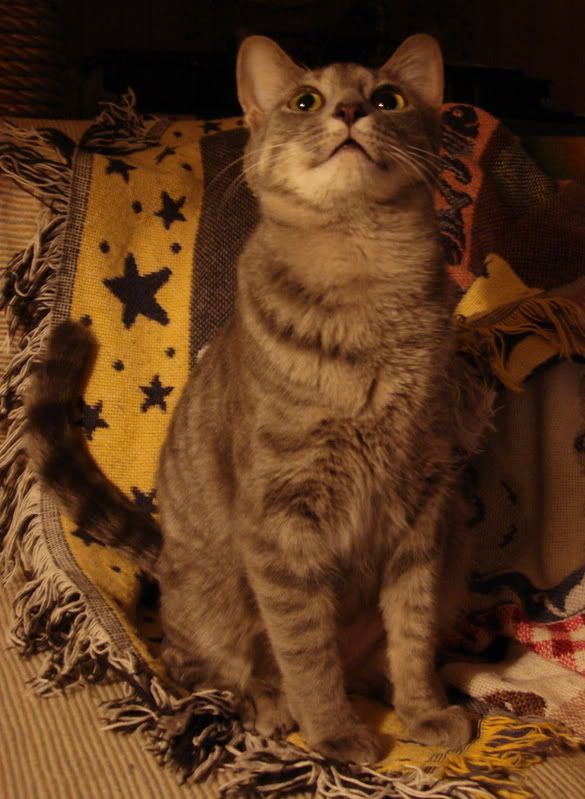 Cats on Tuesday: Our New Treat Dispenser
At least once a week, our niece Mackenzie calls to come over and visit the cats. Recently she came bearing gifts: a package of cat treats.
Emma really couldn't care less whether Mackenzie brings her cat treats or not. For some inexplicable reason, this once shy, virtually feral kitten who has very rarely been exposed to children eagerly follows this energetic two-year-old from room-to-room, even allowing herself to be hugged and held. She enthusiastially plays with every toy Mack offers her and, on last visit, even submitted to a kiss. Go figure. Of course, there's nothing wrong with a treat now and then, either.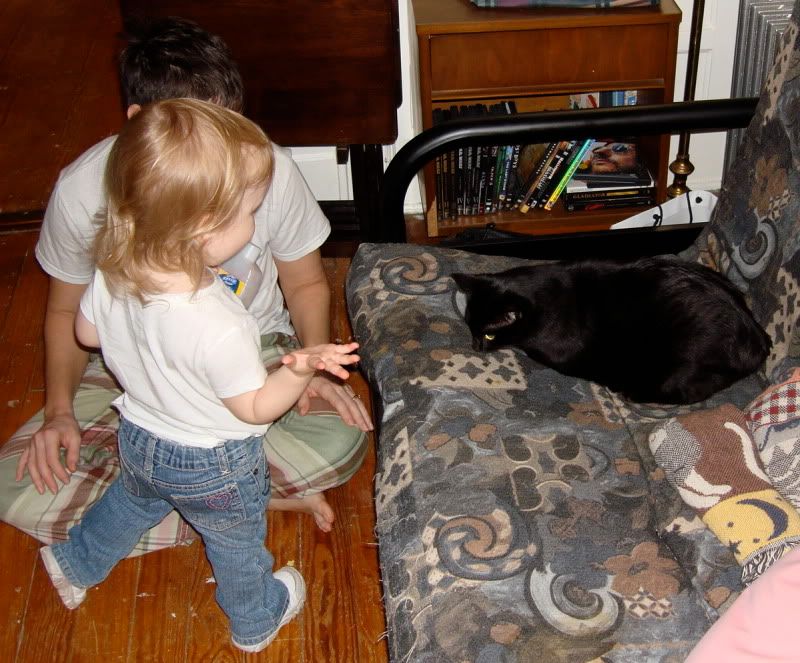 In other news, Isis is now Mackenzie's friend. This is directly due to the fact that Mackenzie now comes bearing treats. Isis hasn't hissed at her in at least four visits.

When she's here, Mack likes to talk to the cats on the telephone. She carries the handset around and announces which cat she's talking to at the moment. For example, she'll say, "I'm talking to Morgan." (Morgan is usually hiding under the bed or lurking just around the corner, as she still hasn't quite adjusted to the high and often noisy speed at which a two-year-old human moves, although she's very curious).
"I'm talking to Emma," Mackenzie announced to me, headset pressed to her ear.
Curious, I asked her what Emma said to her.
She furrowed her brow a bit as if I were half daft, obviously wondering how I could be quite so moronic. She replied matter-of-factly, "Meow."
Oh, of course. Emma says, "Meow."
Mack even put a headset on Emma, just like the one Uhuru wears on Star Trek. Emma very politely allowed her to do it, too. And then said, Meow. (Probably.)