We had one Trick-or-Treater in the form of our niece, dressed as this adorable Abby Cadabby. In case you're not up on this sort of thing, Abby Cadabby is a fairy-in-training from Sesame Street and she came wand in hand and pumpkin a-swinging.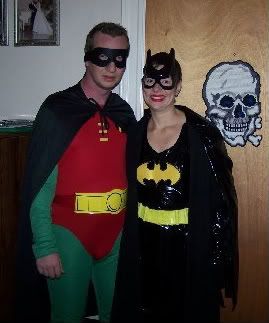 Here's I am with my Boy Wonder. We went into Manhattan, where Halloween is far more a holiday for adults than children. Everywhere we were greeted with "Hey! It's Batman and Robin!"--okay, so they didn't recognize that the skirt probably meant I was Batgirl--and once a Batman even threw his arms around my Robin and shouted, "Robin, at last I've found you!" We went out dancing at The Pyramid, one of my favorite clubs as it has several '80s dance party nights a week and where I had to scrape the boys off of Robin with a stick. It was a great way to spend an All Hallow's Eve.
Let Sleeping Cats Lie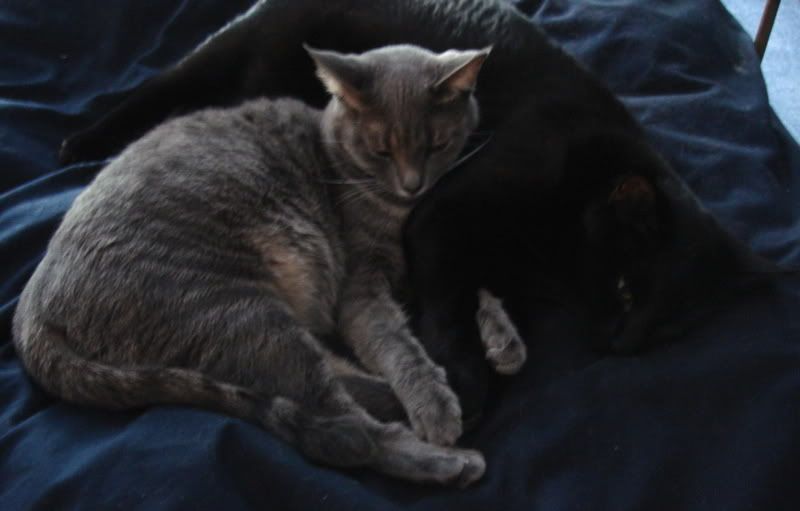 All the festivities wore Morgan and Isis out, and I found them with paws intertwined on the bed.